Platform Specs
Choose which platform works best for you.
Metal Edging
Metal edging provides enhanced durability and strength, ensuring that the platform can withstand heavy use and support the weight of equipment and individuals without warping or bending. It extends the platform's lifespan and creates a polished look all in one.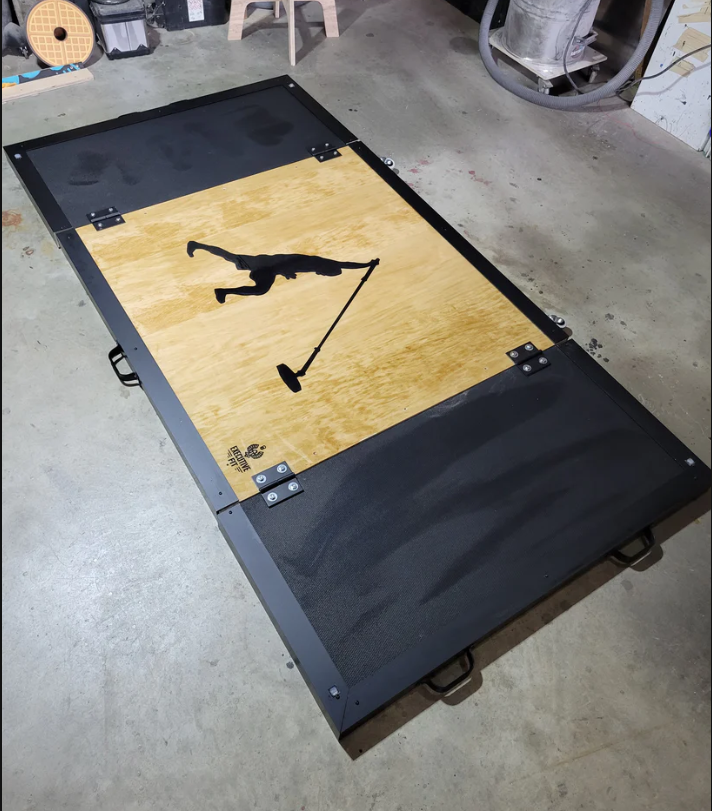 Latches
Our latches securely fasten the side pieces to the wood insert, ensuring a robust connection while also facilitating effortless detachment when required.
Rack Arms
Standard Rack Arms

For the traditional style folks. The standard rack arms have a minimalistic design focusing on practicality and versatility.

Customized Rack Arms

Our customized platforms are tailored toward your fitness needs. It enhances motivation, functionality, and your overall exercise experience, making it an ideal choice for fitness enthusiasts seeking training solutions.
Frequently Asked Questions
What size platform?

Standalone 4x8, 6x8, 8x8 or incorporated with squat rack 4x8 with extension, 6x8 with extension, 8x8 with extension.
If Incorporated with Rack, what is the Rack make and model?

I'll need to know exact inside footprint dimensions, but make and model is enough info to accurately quote.
Can you do this logo?

Any logo can be done, but logos with 3+ colors I need to see to be able to quote accurately.
What are the benefits of metal edging / frame?

Powder coated edging protects the platform edges from heavy foot traffic and gives the platform a complete look. The platform frame does the same.
What's the difference between metal edging and metal frame?

The metal edging "caps" the edges of the platform while the frame is tubular and sits on the floor around the platform.
Can I choose the color of the metal edging or frame
What is the lead time?

Typically we run 4-6 weeks for production on custom orders and 4 weeks or less on non-customized platforms.
How does shipping work?

We send all platforms out via truck freight. Shipping rates vary based on your location so we always recommend requesting a quote for the most accurate pricing. All other products get shipped via UPS ground.
Can you deliver and install?

We prefer to deliver and install ourselves as long as you are within a reasonable distance.
Do I need tools to assemble my platform?

All platforms come with all the hardware needed for assembly. All you will need is a drill for assembly. The platform frames will require a hex key for assembly.
Do I get a discount if I purchase more than 1 platform?

Typically when we bundle platforms together in 1 shipment we can get a better overall price.