Residential & Commercial Deadlift Platforms, Barbell Storage and Epoxy Gym Signage
American Made

Custom Solutions

Superior Durability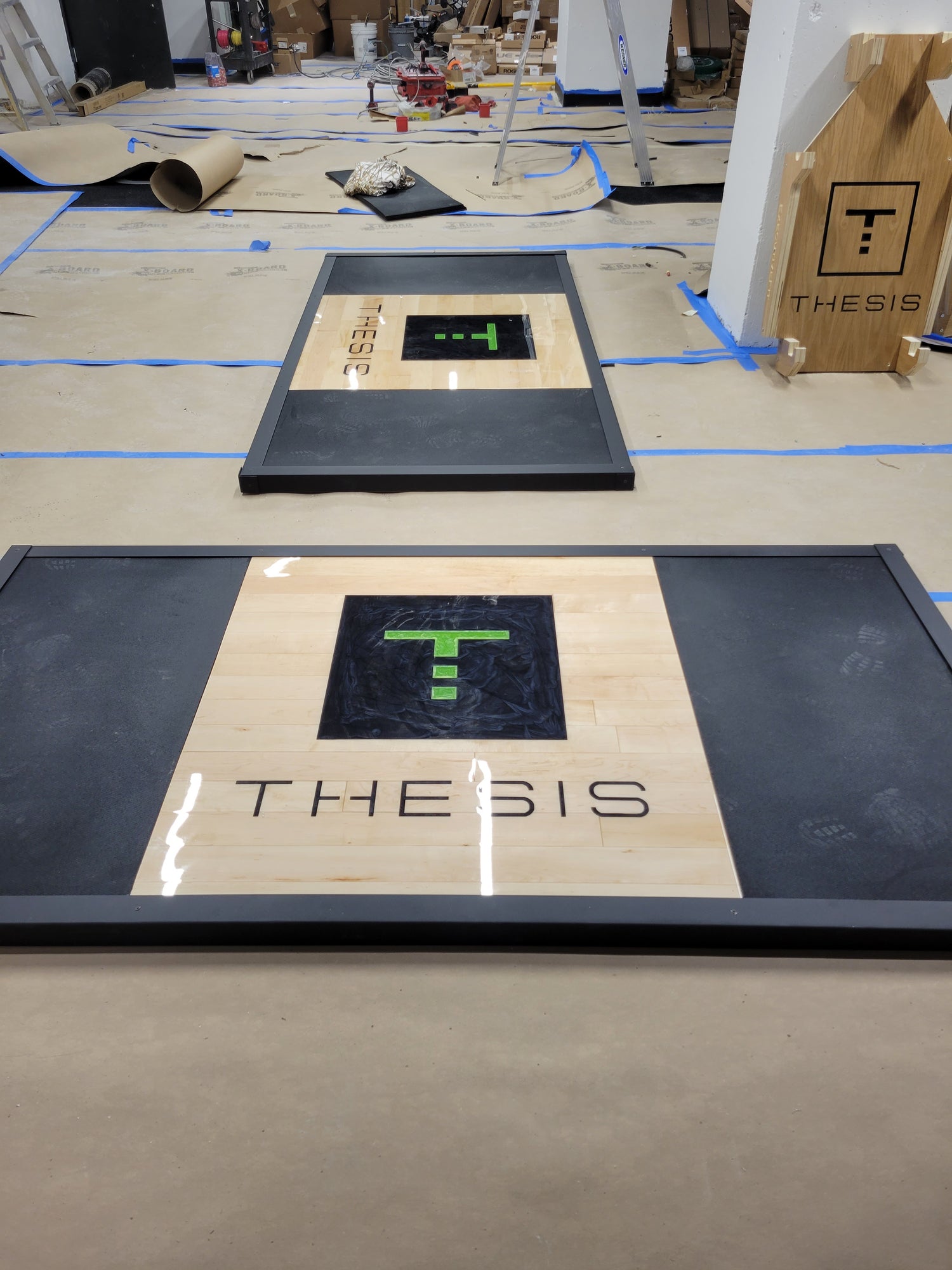 Superior Durability & Beauty
We began with the idea of creating platforms that outlast the typical lifespan and also look great. The most common problem we saw was logo's peeling up over time from extreme foot traffic. Our logos are created with epoxy and colored with mica powder to create a vibrant and unique logo that is unmatched. Our platforms can also be customized to be drop-in inserts for Rogue, Titan and other companies Platforms.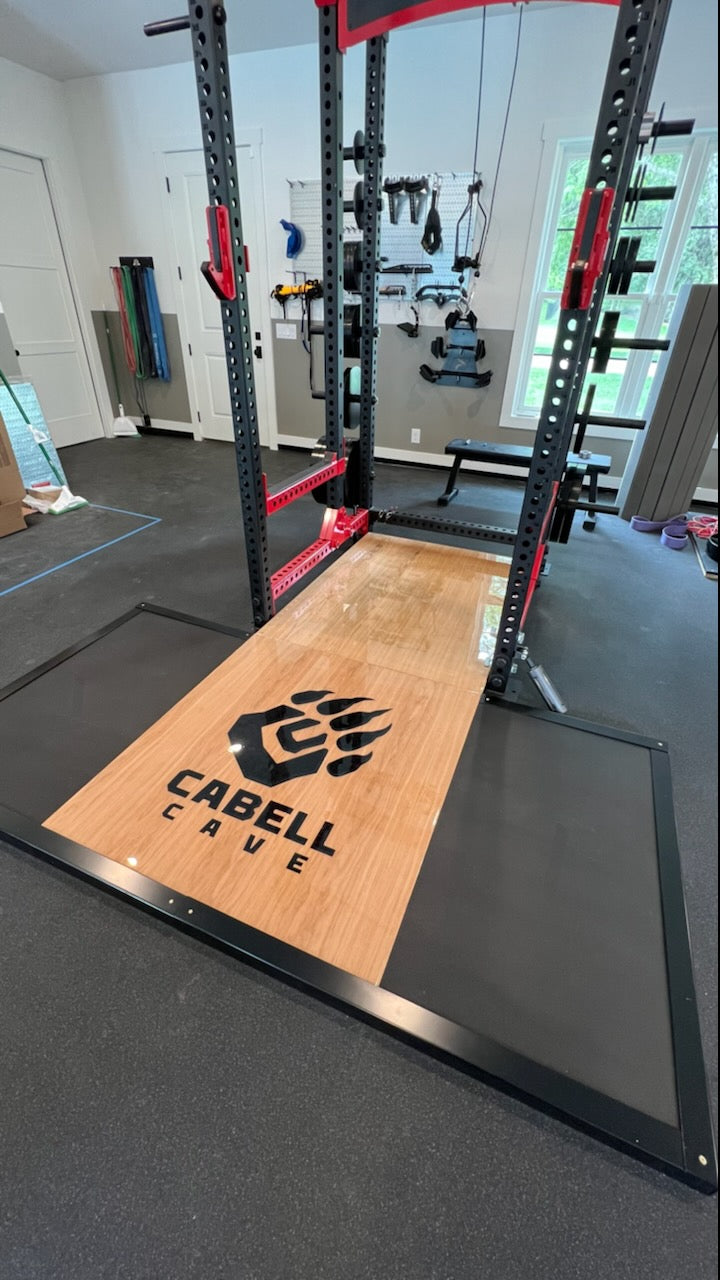 Customized Solutions
Each and every platform that is incorporated with a squat rack is customized to fit that specific rack. We can customize your platform to fit perfectly with racks from Rogue, Titan, Sorinex, Rep, Elite FTS and even no name brand or custom-built racks. We walk you through the process of taking measurements and addressing assembly bolts if they may be in the way of the platform.
With standalone platforms (like your typical 4x8, 6x8 and 8x8 sizes) we offer complete platform options as well as drop-in inserts. These drop-in inserts are cut to size to fit your existing equipment. Whether that be a platform from Rogue, Legend, Matrix, Titan or even a DIY platform we can create a solution that will last a lifetime.
What Our Customers Are Saying!
Eric, FL

"Great experience and a solid product. I highly recommend this company if you are looking for a custom platform for your home or professional gym. Nate is squared away and did exactly what he said he was going to do. The product is top quality and beautifully finished. A great veteran owned company."

A Sunah, NJ

"Incredible workmanship! Mind blown by the speed of completing my platform from scratch. The level of professionalism and guidance for buying exactly what I need versus something that would've been too much. Installation was quick and easy too. I drop all manner of weights on this platform and no issues at all! Deadlifts, cleans, log press and axle bars. All heavy and the platform has withstood the test! Highly recommend!"

Corey, NJ

"I met Nate at a charity event we were working and was instantly blow away by the quality of his product. I knew i needed a piece for myself so Nate built me a beautiful epoxy inlay Betsy Ross American flag. The craftsmanship is incredible and i will def be ordering from him again."
Frequently Asked Questions
What size platform?

Standalone 4x8, 6x8, 8x8 or incorporated with squat rack 4x8 with extension, 6x8 with extension, 8x8 with extension.
If Incorporated with Rack, what is the Rack make and model?

I'll need to know exact inside footprint dimensions, but make and model is enough info to accurately quote.
Can you do this logo?

Any logo can be done, but logos with 3+ colors I need to see to be able to quote accurately.
What are the benefits of metal edging / frame?

Powder coated edging protects the platform edges from heavy foot traffic and gives the platform a complete look. The platform frame does the same.
What's the difference between metal edging and metal frame?

The metal edging "caps" the edges of the platform while the frame is tubular and sits on the floor around the platform.
Can I choose the color of the metal edging or frame?
What is the lead time?

Typically we run 4-6 weeks for production on custom orders and 4 weeks or less on non-customized platforms.
How does shipping work?

We send all platforms out via truck freight. Shipping rates vary based on your location so we always recommend requesting a quote for the most accurate pricing. All other products get shipped via UPS ground.
Can you deliver and install?

We prefer to deliver and install ourselves as long as you are within a reasonable distance.
Do I need tools to assemble my platform?

All platforms come with all the hardware needed for assembly. All you will need is a drill for assembly. The platform frames will require a hex key for assembly.
Do I get a discount if I purchase more than 1 platform?

Typically when we bundle platforms together in 1 shipment we can get a better overall price.
"This is a one of a kind Platform that delivers in Functionality & Aesthetic"